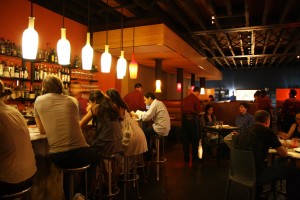 The Most Effective Business Advisor for My Restaurant
For those who already own and operate your own restaurant or who may be considering opening your own restaurant in the future, we're offering what we feel you'll find to be sage advice and valuable insight as you continue to consider ways in which to improve your operation or prepare for a successful launch of a new hospitality venture.
The partners at Modern Food Arts LLC and Viral Hospitality Marketing have been in business since 2003 and we've seen almost anything you can imagine within the food industry. From hotels, restaurants, USDA production plants, boutique inn's to specialty food retail and food manufacturing facilities, including fast casual, full service and more…. we've been involved in numerous projects and have helped clients resolve their issues and have elevated the success of many businesses.
When our clients ask us what it takes to be the most effective business advisor for my restaurant, we tell them that the solutions are often simple, but the answer to their questions is far more complicated. We've been interviewed on television, radio and in print, offering advice for prospective hospitality entrepreneurs, aspiring chefs and for those who's passion is often overshadowed by their lack of experience in developing and implementing systems to successfully instill the disciplines required to run their business, rather than the "art" in what they create within the mainframe of their restaurant, inn or food business.
The simplest and most effective business advice that we can offer anyone however, related to creating a new business concept, managing an existing restaurant, or food related business is as follows:
If you are going to open a new restaurant or food related business, the most effective business advisor for my restaurant advice for anyone is to do your homework first. Due diligence is the most commonly overlooked aspect when one considers opening a food business, and this is why the failure rate in our industry is 80%.
New Business Openings Success Checklist-
If opening a new restaurant, research, research, research! What's your market density, income, traffic patterns, dining habits, day-part history, competition, hours of operation metrics, most popular cuisine and the most absent cuisine of concept type?
Study your potential location; traffic patterns, business drivers (breakfast, lunch, dinner, late night) and study the traffic (pedestrian and commuter) that passes your locations front door through the many metrics available to do so.
Projection of business potential relative to fixed and variable cost projections. The three main reasons that most restaurants fail are; a. unfavorable lease agreements, and b. poorly capitalized venture, c. unrealistic income/cost forecasting and projections.
Aggressively market your business for at least 60-90 days before you're ready to open your doors! Build an effective website presence, social media platform, local outreach, guerilla marketing plan, brand ambassador activations and inroads to business network connections such as the Chamber of Commerce, IBA and others.
Hire the best and most effective talent available and pay for it! In the hospitality business, you get what you pay for…if you hire other employers former problems (thief's, addicts and generally unscrupulous individuals), your business will suffer and ultimately fail. Invest in your hiring process and hire for personality and guest connection first, you can teach the business skills required, not the personal skills that are essential for success. This is called the "hospitality business" for a reason, if you can't offer hospitality, you won't succeed, period!
The most effective business advice for any restaurant is to train, train, train….then train again! Thoroughly train your staff in every aspect of operations, and rehearse every potential guest service situation multiple times until it's second nature, like a military drill, so when you open and you're in a live environment, your staff inherently knows what to do, and how to do it!   Does this require time and resources, YES, but it's the best investment that you'll make in your business, and your guests experience will exceed their expectations every time!
Make training, coaching, teaching and rewards, an essential component of the culture of your business! Employees in this business get bored quickly, they're typically prone to stagnation and they want to be inspired as much as your guests! Like it or not, this is reality! We call this in our business, "the internal guest vs. the external guest"…meaning that a key component in your investment in your staff is to treat them as you'd treat a paying guest, or "treat them as you'd want to be treated yourself" ….the most successful restaurants and food businesses do this better than those who are marginally successful or who ultimately fail!
Hold to the effective business systems and disciplines that deliver positive and profitable results for your business. Labor schedules, costing menu items before you offer them, purchase control systems and price negotiations with vendors as well as negotiating purchase contracts and pricing with all vendors. Without these systems and disciplines, you're destined to fail.
Catch your staff doing things well! Your job as the owner or operator of the business, is to 'elevate everything', and a key in doing this is focus on the positive and announce and reward this behavior to amplify and compel your staff to exemplify this as the culture within your organization! Is discipline required to run a successful enterprise, of course, but you'll effect change and behavior far more effectively if focusing on what's great rather than what's wrong!
Communicate in groups and in effective business messaging that's meaningful. If you're going to run a successful business, everyone from the owner to the porter, MUST be in alignment and involved in the business from operations, to guest service and ultimately to the financial results! How can a chef context the care required to control food cost if he doesn't know what the food cost is? How does a bartender temper pours if she doesn't understand what over-pours do to costs? Invite, involve and inform everyone, consistently and in simple language that they can relate to!
Promote from within and brag about it! Show your staff that there is upside in performing at a high level, invite them to submit ideas, their goals, dreams and desires to grow within your business! Show your staff that with hard work, performance and results, they can create a career for themselves! Nine of every 10 individuals that manage or own food businesses started as hourly employees! Make sure that you communicate this to your staff!

Making Your Guest Feel that You're On Their Side
The Most Effective Business Advice for Existing Restaurants-
Each restaurant is a unique concept, but train your staff and manage your business as if someone else will take it over at some point. Think like a franchisor.  In doing so, when you need time to develop new programs, open new units or revamp your concept, you have a system and operating rules for everything. Additionally, if you ever decide to license or sell your business and travel for example, your established systems will ensure the continued success of the business even in your absence.
Empower employees to make decisions based on insightful thinking and an ownership mentality, and not rely on your input for every decision. Do not discourage them if they make mistakes, but explain how they can change their results in the future through meaningful coaching and mentoring.
Reward your culinary team by letting them create daily specials (make them cost them) and by creating new menu items. Everyone likes to be involved and make a difference. A cook who feels part of the business will stay with you longer. Ask for their opinions and advice occasionally, so they feel important and happy to work for you.
The schedule is the BEST tool that any operator has in to control results and costs It's a great reward to give a flexible schedule to your staff so that they can have a work-life balance and can experience the freedom to spend time at home. Employees are there to help you achieve results and business goals. Decide what's best for everyone.  Consider a 4 days workweek with 10-hour shifts for some, alternating weekends for others as a reward for performance. Communicate with everyone and create a schedule that best fits everyone's needs. Example; young employees are very socially active, while mature employees prefer time their spouse on special occasions. Customize and win!
Walk in the shoes of your employees and don't forget to think about when you were an employee and how it made you feel when your boss didn't listen to your ideas and suggestions. Communicate and listen openly to your staff; SERIOUSLY,

REALLY listen to all of your staff

, including porters and busboys. They see many things that you don't see. Create an environment that promotes opinion sharing. Schedule "family meals" between service periods with the entire staff so that everyone can talk about ideas and suggest ways to improve the guest experience. This will create a great TEAM environment and cost very little.
Schedule server training, and guest speakers which will benefit the staff by offering educational food and wine tastings occasionally and your staff will enjoy the experience AND stay employed with you.
Dependability and follow through is the most important personal action you can make as a leader. If you tell an employee that you will talk to them tomorrow, DO IT! If you commit to a raise in two months, HONOR YOUR WORD! Your trust factor is directly relative to the performance of your staff!
Guest service is the lifeblood of our business! Become the poster child and ambassador of treating every guest as you would want to be treated, and praise those that do it will constantly! If you know that a table has waited a bit too long, send a beverage to the table. An investment in product is much cheaper than a bad review from a guest. Teach and train your staff to offer a signature cocktail or appetizer when you're at peak business.
All recipes, food or drink, must be standardized and formally priced in advance, no exceptions.
Issue a Press Releases every 3-4 months, by creating newsworthy content. Tell a story about a new menu; product, and event get free press. Don't emphasize your restaurant, but sell an experience to the media, that's what they want to give their readers. Press releases are very powerful! Wait until you are prepared to accommodate a large audience. Make sure to publish nationally, not just locally.
Don't sacrifice quality of anything (product, place or service), ever!
The market and your guest doesn't care what you like….offer them what they want and they'll come back to your restaurant again and again!
Hire people for who they are and their natural personality and character, not what they know. You can teach restaurant skills, BUT you can't teach civility, humility and a service mentality. These things are natural or they are not. Choose people for their personality and teach them what you want.
Broadcast and reward your employees for doing a great job and explain what that meant to the guest.
Support community organizations by offering dinners and charitable contributions, you'll receive free press in return while doing something worthwhile for others!
Be fair and realistic regarding expectations of employees; they'll never have the same commitment as you, period… This is your life and career, and it's a job for your best employee. Eventually.
Read and share inspiring books on the subject of restaurants and guest service that might inspire you and your team to dig deeper to provide the most exceptional guest experience in your segment!
The partners at Modern Food Arts are specialists in all aspects of the hospitality industry and in installing success systems and instilling a culture of high performance results in any segment of the industry. We'd love to talk to you about what we can do for your business to "elevate everything" and to achieve results that you didn't know were possible in your business!
You can contact us at asr.modernfoodarts@gmail.com or by calling 410.983.9011 for more information and a free consultation!
All the best to you and your business success!
Modern Food Arts partners with Baltimore SEO TNT – Viral Marketing Amplified! –  where building brand value and marketing your business for success is Viral, Contagious & Amplified!
If you liked spending time with us today, please like Modern Food Arts on Facebook!
"Hospitality is like love. It should be entered into with abandon or not at all."  – Harriet Van Horne